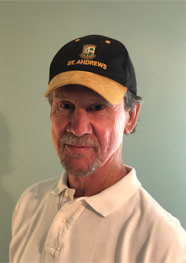 Golf Vacation Specialist
Boston, MA
Andrew has had a 30 year career in the golf industry. Before becoming a golf travel specialist he worked for Double Eagle Golf in corporate hospitality. Andrew was lucky enough to entertain clients at the 1999 Ryder Cup in Brookline, and the 2000 Open at Pebble Beach.
He has also had his owned golf tournament management company, Golf Promotions, which supplies tournament services to charity golf tournaments.
Being of Scottish heritage he has travelled and played golf in Scotland on 3 occasions and done the same in Ireland twice. Andrew loves the links course in both counties, the scenery, the pubs and most importantly the warmth and hospitality that the Irish and Scottish people bestow upon their visitors. He would be happy to share his knowledge of the wonders of the golf adventures that await in Scotland and Ireland.
Besides the British Isles, Andrew enjoys playing golf in the Carolinas, Georgia and the Northern part of Florida.
Andrew's expertise lies in: